Vendors, Visitors Flock to Chappaqua Antiques Fair
by Suzanne Samin (November 3, 2013)
To see the full article and pictures on the Chappaqua Daily Voice's website, please click here.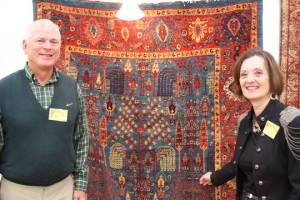 CHAPPAQUA, N.Y. — Old things from all over Westchester County are finding new life this weekend at the 45th annual Chappaqua Antiques Fair.
The fair, which takes place at Westorchard Elementary School, began Saturday and also runs on Sunday, from 10 a.m. to 5 p.m. It is presented by the New Castle Historical Society, which invites dealers from across the Northeast to participate.
More than 40 vendors are displaying their antiques and own designs for sale, ranging from clothes to furniture to books, rugs and more.
"This is one of the biggest volunteer shows in New York," said Dealer Chair Buffy Haas of Chappaqua. "We've got a lot of different vendors, so, it's an eclectic show, but not necessarily very high end."
Several Westchester vendors show at this fair, many of whom have made antique collecting a small business.
Dianne Arnold of Chappaqua owns The Barn at Sundial Farm in Ossining. Arnold repurposed old barns at the farm to sell her antiques, which she collects as a hobby.
"I try to look for unique pieces that no one else has, and I travel far and wide for them," she said.
Mike and Mary Lynn McRee of Bedford sell antique and new Oriental rugs through their business, the Caravan Connection.
"We often visit people's home and help them coordinate carpets with their interior design," Mary Lynn said.
…To read more, please visit the Chappaqua Daily Voice Website by clicking here.