Area Rug Cleaning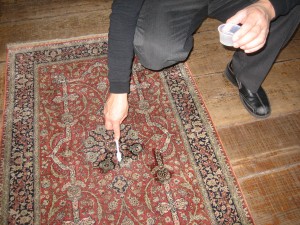 The Caravan Connection offers the full range of rug cleaning and repair services. We recommend weekly vacuuming of your carpets to keep the dust from settling into the pile. In order to maintain the lanolin in the wool, we recommend that you have the carpets hand washed every four to five years unless they are in an extremely high traffic area.
For spot cleaning, ordinary club soda or a solution of white vinegar and water can be safely used and will remove most stains. Please do not hesitate to contact us with any questions concerning stain removal. Serving Bedford, NY, New York, NY and more, we clean rugs on the premises and offer free pick-up and delivery for homes in our area. Rugs can also be sent to us via UPS. Be sure to contact us first so we can give you instructions on how to do this.
Area Rug Repair
In addition to our cleaning services, we also offer repair services to increase the years of enjoyment of your area rug! We will overcast the ends if the fringe starts to wear, re-fringe where necessary, repair the selvedge (the binding along the sides), even re-pile worn areas or repair holes! It is always best to attend to any small repairs before they become larger ones. However, even in cases where repair has been neglected, we have managed to rescue and extend the life of rugs headed for the dust bin! Let us examine your rug for a free estimate of any services it may require.
Appraisals For Area Rugs
Our certified rug appraiser, Mike McRee, is always available to give written appraisals on any hand-knotted oriental carpet whether it is new or antique. Please contact us by e-mail (marylynn@nullcaravanconnection.com) or phone (914) 666-0227 to arrange for these services and for pricing.
proudly serving the greater Mt. Kisco, NY area