Our History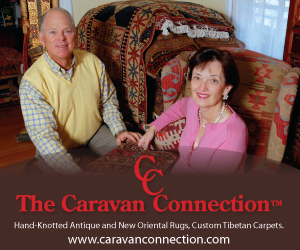 The Caravan Connection was founded in 1979 by Mike & Mary Lynn McRee. While assigned by the U. S. Army to NATO Headquarters in Izmir, Turkey, Mike and Mary Lynn enjoyed strolling through the bazaars, where old time craftsmen wove hand-knotted oriental rugs using techniques and designs passed down through the centuries. Upon returning to the states, the McRees found that many of their friends wanted to purchase oriental rugs but felt uncomfortable buying something that they knew so little about. The McRees began teaching about rugs using an Olympic scale (1-10) and their Quality Rating System (QRS) was formed. It is still in use today and can be found under each rug on display in our showroom! We have one of the biggest selections of oriental and modern area rugs for the people of Westchester, Mt. Kisco, New York NY & more.
Click here to learn about our Quality Rating System
The Caravan Approach
Our approach is to first educate the buyer in the complexities of oriental rugs, offer the full range of styles and colors, and then offer the carpets at a price that passes on to you, the consumer, the economies of our operation. We want to make you a lifetime customer. In order to do this, we must find you the carpet of your choice and then make it available to you at an affordable price. Let us show you how these beautiful rugs combine the best of art and artisanship to truly enhance your home or office.